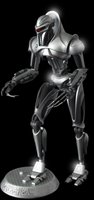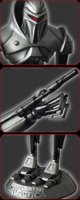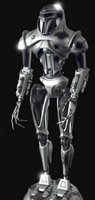 I hope all is well with you. I just wanted to give you some updated information regarding Majestic Studios and SDCC, as well as share some actual product images of our two 1/6 Scale Battlestar Galactica Cylons.
First off, our booth number this year is # 5201. Also, the response to our announcement of the SDCC Battle Damaged Cylon Exclusive has been so overwhelming, that we have decided to increase the edition size to 500 pieces (original edition size was 400). We hope this will allow more people an opportunity to own one.
As stated previously, we will also have 300 pieces of the regular edition Cylon available for sale at our booth. This is a special pre-release run of product brought in especially for sale at SDCC. The Cylon will be available at retail outlets and online venues (including the new Majestic Studios web site with shopping cart, launching next month) in August.
Since production is now completed on both versions, I have attached several images of the actual product (not prototypes). First image is of the SDCC Exclusive.